To: Outback Rebel Users Date: March 1, 2019
From: Global Customer Care Subject: Outback Rebel software v3.1.3.4 USB
Product(s) Affected:
Outback Rebel
Scope:
This document provides software installation instructions for Outback Rebel v3.1.3.4 via USB.
Rebel v3.1.3.4 software is required when pairing the Outback A222 with Outback Rebel using ATLAS correction service.
Description of Changes:
Atlas Integration.
Font size is now adjustable.
Changing between implements with different swath widths will no longer affect applied coverage maps.
The Shift button can now be saved as a shortcut.
Addition of the camera image flip feature.
Ability to output higher NMEA messages.
Rebel v3.1.3.4 instructions USB
Installation Instructions for Outback Rebel v3.1.3.4
1. Click here to download software: Rebel v3.1.3.4 USB update download
2. File will begin to download
3. Click on download when completed and the file will open.
4. Select "Extract all" at top of screen.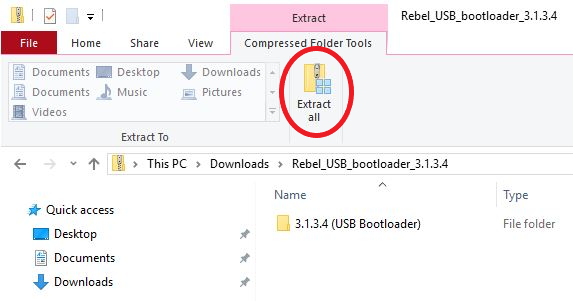 5. Now it will ask you to select the file destination, leave it as it comes up.
6. Press "Extract" at the bottom of the screen.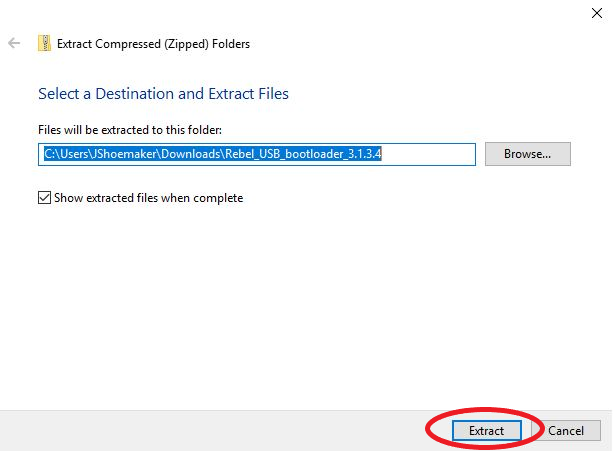 7. Open the folder labeled "3.1.3.4 (USB Bootloader)"
8. Select all 3 files
-Right click and select "Copy"
9. Insert blank USB thumb drive into the computer and select it under your menu on the left.
10. Select "Paste" in the top left side of your screen.
11. The file will begin downloading to your USB thumb drive.
12. Once download is complete, the file is ready to install on the Rebel.
13. With the Rebel powered OFF
-Insert USB thumb drive with software on it, into the side of the Rebel
-Turn on Rebel
14. Select "Update Software"
15. The update will start installing
16. Once the install is completed:
-Remove USB
-Press "Restart"
17. Rebel will reboot
18. Once the Rebel has rebooted, you can verify the software upgrade
-Menu
-Diagnostics
-Terminal Diagnostics