Installation Instructions for AC110 v2.5
1. Download the AC110_2.5.0b01_140318 software from the Outback Guidance website and save it to your computer.
2. Unzip the software by double clicking the AC110_2.5.0b01_140318 file.
3 .Create a folder named "AC110" on a USB drive with the "STX_Update" and "STXv2_Update" files. Next locate the b0225001.210 and b0225001.210.MD5 files that were unzipped in step 2 and copy them to the AC110 folder.
4. Verify the Outback STX terminal is powered off. Insert the USB drive in the USB port on the STX terminal. Power onthe Outback STX terminal. After less than a minute, an install screen will appear as shown in step
5. Press the AC110 Update button (the screen below).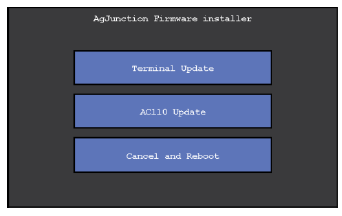 6. Press the Update AC110 button (the screen below).

Estimated Install Time:10 min

Note: The Detect AC110 option will display the firmware version already installed on the AC110 and the firmware version on the USB drive. After a brief period of time, the system will go back to the screen displayed at right above.

7. Once the installation of the AC110 firmware is complete, the following message appears. Press the button to continue, which will take you back to the first screen shown above.


8. Remove the USB drive and press Cancel and Reboot to restart the STX. Turn off the AC110 and restart it once STX has booted up.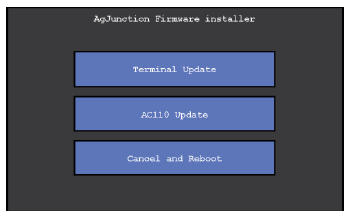 9. To verify the new software version, on the STX terminal press the Tools button.The Current Version field displays the new software version and the Status field displays Connected. It is recommended to turn off the AC110and restart it.
IMPORTANT: Always make sure the Outback STX terminal is completely powered up before powering up the AC110.