ISOBUS Diagnostics and Troubleshooting
The ISOBUS Diagnostics screen (Menu > Diagnostics > ISOBUS Diagnostics, or Menu > Settings > ISOBUS Settings > Diagnostics) lists all ECUs on the CAN bus. Selecting an ECU in the list displays diagnostic information for that ECU. For more information see the following topics:
Note: You should only need to refer to this screen when directed by Outback Customer Service.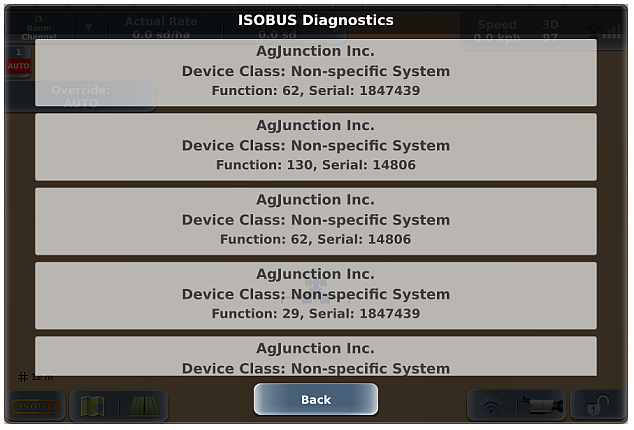 When you select an item in the list a details window appears for that item (ECU) as shown below.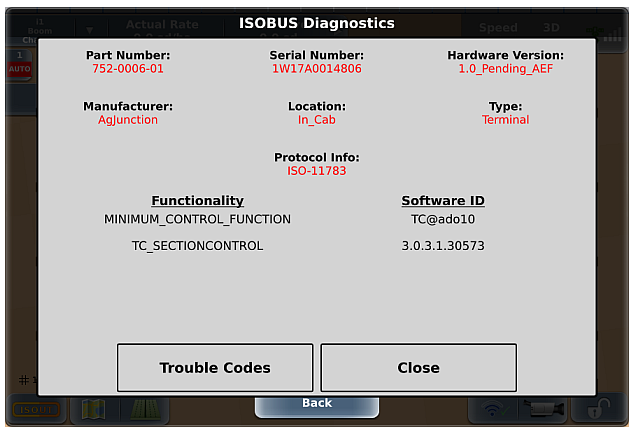 Press Close to close the details window (and show the list of ECUs). If you do not close this window the next time you display the ISOBUS Diagnostics screen this window will still be visible.
Note: Pressing Trouble Codes displays a list of error codes the ECU is reporting. Contact your ISOBUS implement manufacturer or dealer for more information.
The following table describes each field on the ISOBUS Diagnostics details screen.
Field

Description

Part Number

ISOUT part number

Serial Number

ISOUT serial number

Hardware Version

ISOUT hardware version

Manufacturer

ISOUT manufacturer

Location

ISOUT location

Type

ISOUT type

Protocol Info

ISOBUS protocol

Functionality

ISOUT functions/tasks

Software ID

ISOUT model
ISOUT software version
ISOUT server version
Task Controller version
ISOBUS Troubleshooting
Review the following before troubleshooting ISOUT issues.
If appears above the ISOUT button on the map, press it to display the Error/Warning Log screen that has the following buttons:

Dismiss All closes all errors and returns you to the map (warning button no longer displayed because you dismissed all errors).

Hide closes the Error/Warning Log screen and returns you to the map (warning button still displayed and the errors/warnings remain).

If flashes red, press it to display the ISOUT window then follow any onscreen instructions to resolve the error.